The Vedas are intended to serve a different purpose. They have to be learnt by heart, understanding the correct way of pronouncing the mantras by listening to the rendering of the mantras by the guru (teacher)
Start journey into the world of Sanskrit. It has been designed in a manner that anyone regardless of mother tongue and age will get acquainted with the salient aspects of Sanskrit language, without being unduly burdened.
It contains a list of mental calculation techniques claimed to be based on the Vedas. The mental calculation system mentioned in the book is also known by the same name or as "Vedic Maths".
Palm leaf manuscript is one of the oldest medium of writing in India especially in Southern India. It is also the major source for writing and painting in South and Southeast Asian countries. 
Welcome to Learn Sanskrit Online, the best place to learn Sanskrit online. The site is informal for all beginners, you should be able to make basic conversation in Sanskrit with only a few hours of learning.
Being one of the online Sanskrit Gurukulas, this is the most prominent site for learning Sanskrit aspects. 
Gurukula is the place where Guru and his followers(Teacher and students) mingle, and enlighten the topmost theories of the life and world. The very cause for the spread of such theories is based on the media, which are the Sanatana Vedas, Shastras and Puranas. They also cover the areas from which a person can become powerful both physically(by Yogas and Pranayamas) and mentally(by Dhyanas). The most secret thing that how one can achieve the ultimate truth also be conversed there. asd
To reveal such ideas all over the world specially keened ones, we have started this online Sanskrit teaching Gurukula. In this Gurukula, anything regarding Sanskrit can be taught  i.e., Vedas, Shastras, Puranas, Bhagavadgeeta, Dhyana, Pranayamas, Yogas, Vyakaranas, Shilpashastras, Jyotishya, Lipishastras, Bhagavata, Ramayana, Mahabharata, Vishnupurana, Jain, Buddha, Sankhya Tattvas etc. 
For job holders, retired people and students, this online Gurukula is most helpful to learn about Sanskrit as part-time specially Mantras like Ganapatisuktas, Purushsuktas, Shrisuktas, Rudras and for daily meditations Stotras like Shankarastotras, Bhagavadgeeta, Pratanastotras etc. 
From your place at your time.
As a part of samskrit :Grammar-> 
*Pananiya Vyakarna ,*Ashtadhyayi, *Siddhanta Kaumudi. 
:Vedanta->
*Shankara Bhashya etc
In sathsanga, topics like Bhagavadgeeta, Viveka chudamani etc will be discussed.
Also we teach  pranayama , dhyana  (help to increase memory power and also to maintain  good health) ,etc.
All the above can be learnt through ONLINE through  SKYPE or GOOGLE HANGOUT
In this unhappy and peaceless world, do you wish to get peaceful life even doing your obligations? Do you want to know the ultimate truth about the Birth and Death? 
and to get answers for many more such doubts and to learn Sanskrit, please contact us-
Vidwan Tirumaleshwar Bhat,
e-mail: [email protected]
Mob: +919480460801      
Vidwan Tirumaleshwar Bhat's Profile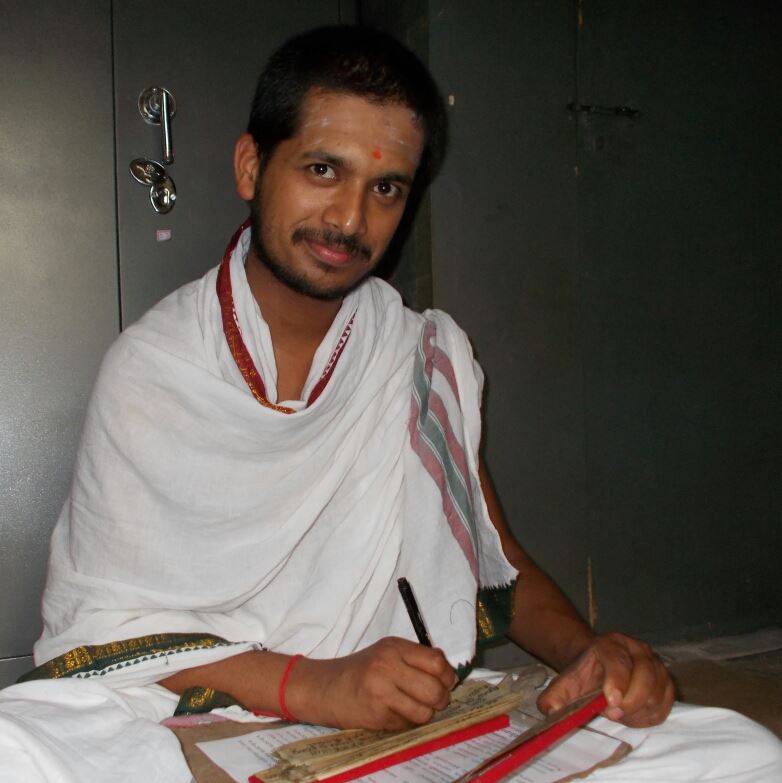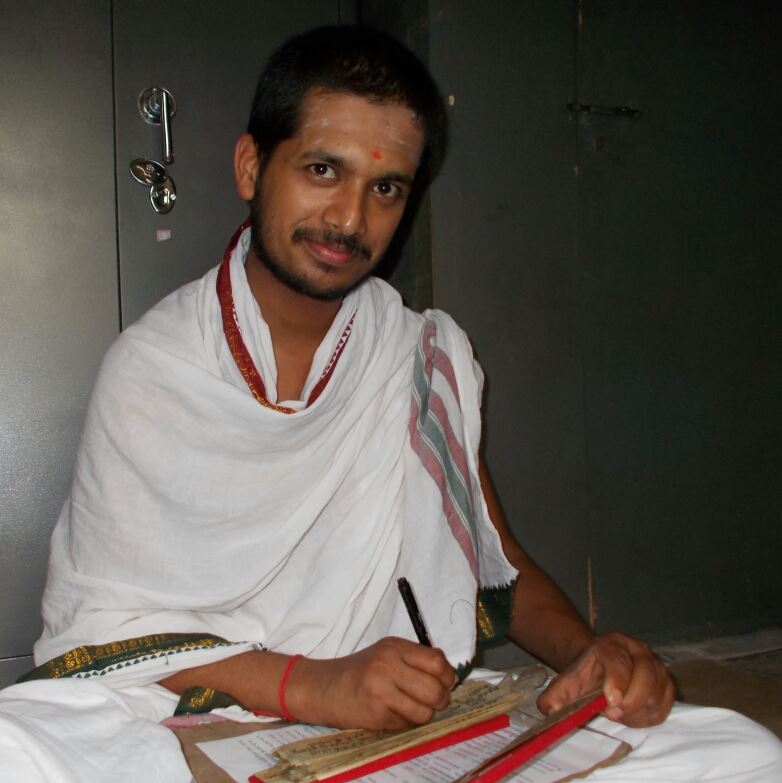 Tirumaleshwar has gone through the full cycle of Traditional Vedic Learning over 12 years. He learnt  Krishna Yajurveda, Bodhayana Grahya Sutra and the Daily Rituals / Mantras inSirsi over 7 years. Subsequently he completed Post Graduation in Paniniya Vyakarana at Shri Matha Samskrit College, Ummachigi affiliated to Karnataka Samskrit University over 
5 years.
* He has won state level  debate competitions consecutively (3)three times. 
* He is an avid learner and continues to study related subjects.
* He completed MA in Samskrit from Manansa Gangothri, Mysore (Karnataka State Open University). 
* He was awarded "Agama Praveena" (equivalent to MA) from  Department of Hindu Religious Institutions and          Charitable Endowmwnts ( Govt. of Karnataka).
* He has also learnt to transcript ancient Tighalari(Talegari) script of Samskrit used in old Palm Leaf books.
* He is also currently teaching in Sri Samartha veda paatashala.
Blog
Articles on Personality Development
Teach Yourself
ಮನಕ್ಕೊಂದು ಬೋಧನೆ